Do you need to add more seating to your living space but don't have the room for another sofa? A loveseat is a great option. So how do you choose a new loveseat that you'll love? Choosing a new loveseat isn't easy; you want the perfect combination of comfort and aesthetics. You want to be able to fall asleep curled up with a good book on it, while also loving the way it ties your living room together.
How to Choose the Right Loveseat Sofa
When you are picking the right piece of furniture for a specific room, such as the living room, you want to make sure that the piece that you are considering will fit with the style of the room and your personal style tastes. You want to make sure that the loveseat that you pick out is one that is going to add to the style of the room and be something that will be a focal point in the room. You want to find a loveseat that fits with your own style, whatever that may be. Look for a loveseat with a style that you love and one that will add to your home.
When you are choosing the best loveseat make sure that you look for one that offers comfort. You would like to have furniture that invites you to sit down and relax. You want to make sure that the furniture that you choose is the kind of furniture that you will want to use again and again. Make sure that you pick out a loveseat that offers the right amount of support while still being comfortable in all of the right ways. Choose a sofa that is comfortable to you.
When you are picking out furniture for your home you want to make sure that the loveseat sofa that you choose is going to last for a long time. Once you have found a sofa that you love and that fits with the style that you like then you need to know that the piece is going to be around for a long time. You need to find furniture that is built to last. When you have found a loveseat sofa that has a look that you like and that feels comfortable to you it is important that you will be able to have that sofa around for a long time. Look for the kind of sofa that is built in a high quality way in order to get what you need and deserve.
Finding a loveseat sofa for your home can be fun and exciting, but it can also be a lot of work. Make sure that you know just what you should be looking for in such a piece before you set out to purchase one. You want to find a sofa that is stylish, comfortable, and made in a quality way.
Sizing Your Loveseat
They call it a loveseat for a reason. It's designed to be the perfect size for two to snuggle up on, and no larger. The minute you can seat three, you're bordering on couch territory.
First, you need to measure the space you plan to put your new loveseat. Loveseats are typically between 50 and 70 inches long. It's not a bad idea to build in space for an end table on either side, too.
For instance, if you have 70 inches of space to place a loveseat, you might want to save 10 inches at each end for a small end table. That leaves 50 inches for the loveseat.
Planning ahead like this will ensure that you're designing the whole room to flow the way you want it, not just buying a piece of furniture.
Choosing Your Style
What's your living room's vibe? Is it low-key and casual, or maybe French country with plenty of fine leather? Do you love the idea of a reclining loveseat?
Regardless of your taste, just make sure you're buying a loveseat to match it. A squashy, comfy loveseat will look out of place in a modern industrial living room, just as a mid-century modern loveseat wouldn't look at home in a more contemporary living room.
Color comes into play here, too. Although you might love loud, bright colors, ask yourself if you'll still love a lime green loveseat in five years. If you're unsure, stick to neutrals– they're always a safe bet.
Picking Your Material
While the material of your new loveseat will definitely play a hand in its style, the main focus on your fabric should be on its functionality.
Do you have pets that you allow on the furniture? Do you like to eat and drink in the living room? If you answered yes to either of these questions, you should probably stick to something that's easy to clean, like vinyl or leather, or a more durable fabric.
If you dig the coastal aesthetic, wicker will make your living room feel like its oceanside. Regular fabric will offer the most in terms of style choices.
How to Style Your Place With a Loveseat
For a cohesive look, match the style of the loveseat to the sofa, if you have one. This works especially well if the loveseat and sofa are used to form a conversation area. Another good idea for a conversation area is two loveseats either facing or at a right angle to each other. If you're setting your loveseat apart from the main seating area, perhaps in a reading nook, choose a complementary style or the same style with complementary upholstery. Loveseats also work well in oddly shaped rooms that don't have long stretches of unencumbered wall or floor space, and in bedrooms as cozy places to curl up.
Loveseats for Small Spaces
When your room calls for something larger than an armchair but not as big as a sofa, a loveseat fits the bill. Keep these points in mind when looking at loveseats:
Scale is important; look for a loveseat that doesn't overwhelm the space with its height or depth.
Thickly cushioned loveseats look bigger, so for tiny spaces, stick to sleek, contemporary styles with clean lines and a low back.
Color and pattern also affect visual space. To keep the room from feeling claustrophobic, use light solid colors for the upholstery.
It's easy to see why people love loveseats. In rooms large and small, they offer a comfortable place to stretch out and relax or converse with friends and family.
5 Perfect Loveseat Sofas For Your Home
Sofas are an important addition to any home. They make easy seats for guests, while making your living room decorative and yet cozy at the same time. There are all sorts of different ones, but loveseat sofas are the best choice. They are small, and elegant, yet sophisticated and there's something about them that makes you feel comfortable and close with the people who sit with.
Measuring just 36.5" H x 59" W x 28" D, this settee is the perfect pick for a small-scale seating ensemble or a bedroom accent. Made from solid maple wood, it offers a traditional appearance with rolled arms and turned legs finished in walnut. Foam padding and web suspension add comfort to the seat, while 100% linen upholstery ties it all together with button tufts and a neutral solid hue.Upholstery Material: 100% LinenDesign: Standard; ChesterfieldOverall Product Weight: 60lb.Assembly Required: YesOverall: 59" W x 28" D
---
Zipcode Design Ibiza Loveseat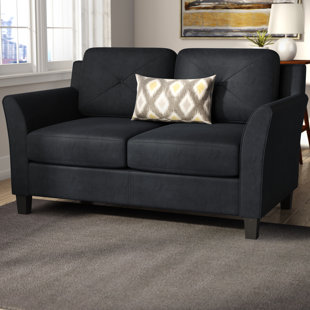 This loveseat is a perfect fit for any living room. The sleek design and classic build make this a great choice for any home. Upholstery Material: Microfiber/MicrosuedeDesign: StandardOverall Product Weight: 71lb.Assembly Required: YesOverall: 56.3" W x 31.5" D
---
Mercury Row Perseus Loveseat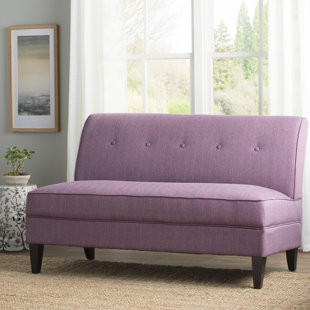 Measuring just 36" H x 58" W x 33" D, this settee is the perfect pick for a small-scale seating ensemble or a bedroom accent. Made from solid pine and poplar plywood, it offers a traditional appearance with a curved back and tapered legs. Foam and synthetic fiber padding add comfort to the seat, while 100% polyester upholstery ties it all together with button tufts and a neutral solid hue.Upholstery Material: 100% PolyesterDesign: StandardOverall Product Weight: 66.14lb.Assembly Required: YesOverall: 58" W x 33" D
---
Charlton Home Patricia Loveseat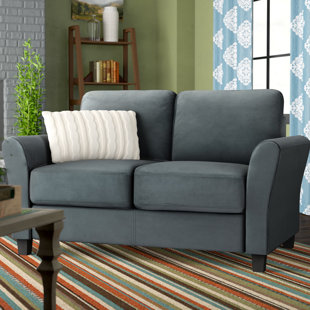 Friday night is movie night! Grab a bowl of buttery popcorn, dim the lights down low, and gather the family atop this Patricia Loveseat for an entertaining night in. For a cohesive look in the living room, add matching arm chairs to the space, lovely along with a trellis-patterned rug to round out the ensemble. Whether you're cracking up at a comedy or hiding behind a pillow throughout a thriller, this loveseat is sure to make your night classically cozy.Upholstery Material: Microfiber/MicrosuedeDesign: StandardOverall Product Weight: 73lb.Assembly Required: YesOverall: 56.3" W x 31.5" D
---
Ebern Designs Campanelli Sleeper Loveseat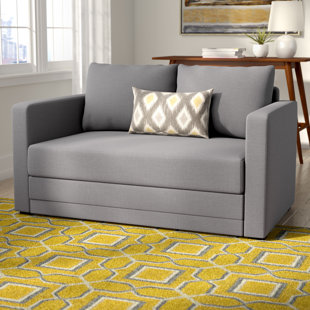 Give your living room a new look with the Campanelli Sleeper Sofa. It was created to match any style with its modern design and wide track arms. What's more, it effortlessly flips from sofa to sleeper which makes it a smart selection for small space living. The encased coil seat cushion delivers extra comfort along with the memory foam, which is made with CertiPUR-US certified foam. Your guests will never sleep better!Upholstery Material: 100% Linen; Polyester BlendDesign: Sofa BedOverall Product Weight: 101.5lb.Assembly Required: YesOverall: 53.5" W x 31.5" D